Lee's Sax Worx - Pictures to See
This page is a doozy to load, so get some coffee or something
SOPRANO SAXOPHONE
Adolphe Sax, Paris (1814-1894)
circa 1900


Sax's serial numbers are as yet very little help in determining age, and one is therefore dependent on clues such as "Medaille or d'Or 1900" or other endorsements that appear on his instruments. Even his inscribed street addresses change so seldom as to be little assistance in defining year of manufacture. This soprano was made after 1900.

Silver plating over brass body. Silver keys. Serial no. 15946. Overall H 64.0 cm. without mouthpiece. Ruck Collection, Germanisches National-museum, Nurnberg, MIR 485.

(From the Look of Music, Philip T. Young, Copyright Vancouver Museums and Planetarium Association, 1980)

BASS CLARINET, THEATRE MODEL
Jean Baptiste Albert, Brussels (? - 1918)
circa 1900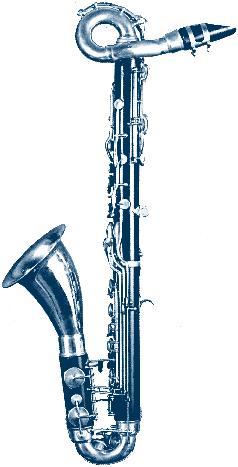 This is specifically intended for use in the theatre pit where compactness is the first requisite. It certainly achieves that and is a sturdy instrument as well, though extremely heavy. It is keyed on the Albert System. The body design is, of course, very much derived from the baritone saxophone. Notice how abruptly the bell swells once it leaves the lowest wood section.

Rosewood, with German silver mounts and keys. Overall H 70.7 cm. Collection of Musical Instruments of Dorothy and Robert Rosenbaum, Scarsdale, 147.

(From the Look of Music, Philip T. Young, Copyright Vancouver Museums and Planetarium Association, 1980)

BARITONE SAXOPHONE IN E-b
Adolphe Sax, Paris (1814-1894)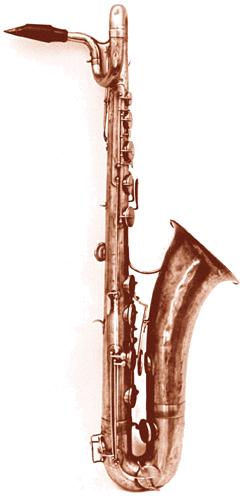 It is remarkable how little saxophones have changed in appearance in nearly 150 years.
Silver plating over brass, now very worn. Serial number 20149. Overall H 103.3 cm. Bell dia. 20.4 cm. Musee Instrumental, Brussels, 3663.
(From the Look of Music, Philip T. Young, Copyright Vancouver Museums and Planetarium Association, 1980)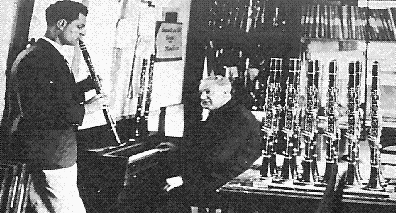 Leon Leblanc - 1950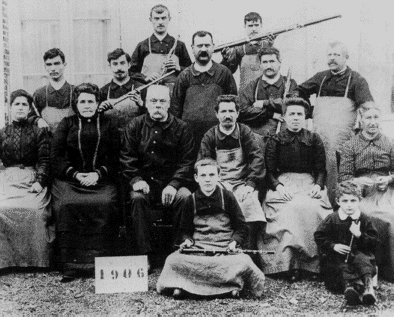 Noblet Factory Workers - See the Date? - 1906!
Below - Antique Selmer (from various angles)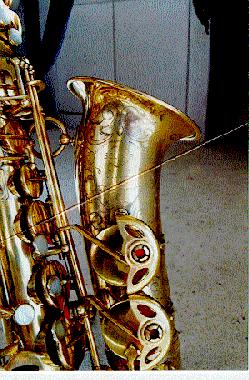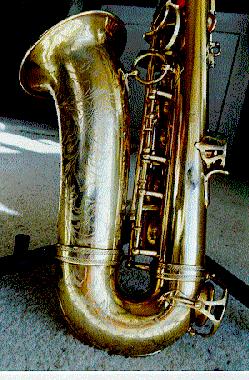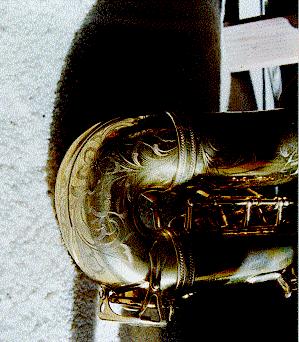 Selmer Poster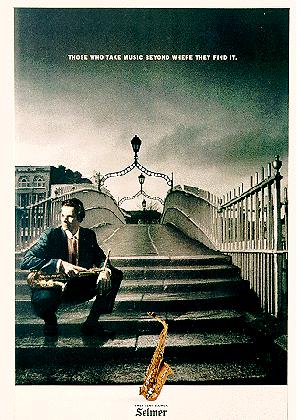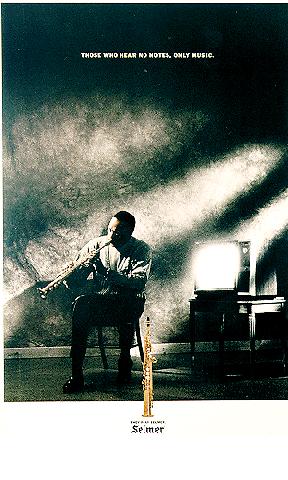 Selmer Poster
&nbsp &nbsp &nbsp &nbsp "JazzMan"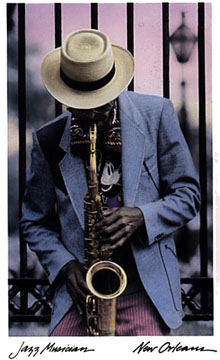 click here to just say hi!
return to Lee's Sax Worx Home Page
Last Update July 30, 1997